138M Shiba Inu Burnt in a Week, 19M in 24 Hours
Asa Royal
2 min

read
28
[ad_1]

– Advertisement –

Shiba Inu Burns 138M coins in a week.
Over 138.02 Million Shiba Inu (SHIB) have been destroyed in the past week, and 19.12 Million over the last day. The well-renowned SHIB Burn Project removed over 11.80 Million Shiba Inu from circulation forever in a single transaction.
The Shiba Inu Community has carried out forty-nine (49) individual burn transactions, which resulted in the permanent removal of 138,028,749 (138.02M) SHIB tokens from circulation over the past week.
In the last 7 days, there have been a total of 138,028,749 $SHIB tokens burned and 49 transactions. #shibarmy

— Shibburn (@shibburn) January 15, 2023
24 Hours Burns
In addition, a large number of SHIB tokens, totaling 19,122,599 (19.12M) SHIB have also been removed from circulation forever through eleven separate transactions in the past 24 hours.
In the past 24 hours, there have been a total of 19,122,599 $SHIB tokens burned and 11 transactions. Visit https://t.co/t0eRMnyZel to view the overall total of #SHIB tokens burned, circulating supply, and more. #shibarmy

— Shibburn (@shibburn) January 16, 2023
The prominent SHIB Burn Project named "SHIB Super Store" recorded the biggest burn transaction of the day. The Community-led SHIB Burn initiative recently reported via tweet that a whopping 11,816,496 (11.81M) SHIB has been transferred to the "inferno" address in one significant transaction.
Burn and Reward

11.8M Burn
12.0M Reward

$248

Smallest burn to date, but we keep chugging along. All ways to burn through me and other members of the community are available at https://t.co/d0goxr6syshttps://t.co/6JR5w8633Y pic.twitter.com/DKbNrFRHDI

— SHIB Super Store (@shib_superstore) January 16, 2023
Despite the burns, the overall SHIB burn rate skated by -29.61% over the last day.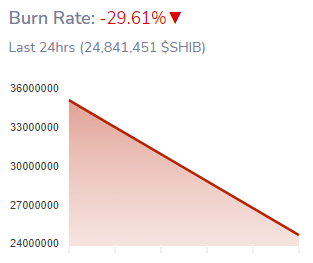 Shibarium To Burn SHIB
Shiba Inu's development team recently announced via an official blog post that they are implementing SHIB burn mechanics into the much-awaited Shibarium Network. As per the announcement, all transactions on the network will burn SHIB tokens, meaning that a certain amount of Shiba Inu will be destroyed as part of every transaction on the network.
The blog post reads: "This will operate within the base gas fee of these transactions being utilized to burn $SHIB through our renewed Burn Portal. This will occur every time a transaction is made on the network."
The team further confirmed that the renewed SHIB Burn Portal is currently being developed and is not yet available for use. The official SHIB Burn Portal will be specifically created for the Shibarium Network. The team promises to release further information and details about the renewed Burn Portal and how it will work with Shibarium in a future blog post.
– Advertisement –


[ad_2]

Source link
Related posts
March 2023
M
T
W
T
F
S
S
1
2
3
4
5
6
7
8
9
10
11
12
13
14
15
16
17
18
19
20
21
22
23
24
25
26
27
28
29
30
31